Meet our unsung heroes
Alistair Brown, Field Engineer
We caught up with Alistair, one of our Field Engineers who has been involved in some fascinating projects at Fordway, including Crossrail and the development of the Elizabeth Line.
We'll be taking a look at what the project involved and how he supported the team throughout the 11 year project. We hope this blog will give you some insight into what our engineers get up to behind the scenes and the various projects the Fordway team has worked on over its 30+ year history. 
The build of the Elizabeth Line was one of the largest feats of engineering to ever take place in London and is Europe's largest underground construction project.
The decade-long major tunneling project was hugely challenging, especially during the Covid-19 pandemic. To help you paint a picture in your mind, it involved thirteen miles of tunnel and 7 million tons of earth excavated from beneath London over more than a decade – so, quite a big deal… 
The extremely complex project needed the IT to match – enter Fordway. 
Fordway set up a cloud-based infrastructure, provided onsite IT presence and 24×7 support for the round-the clock tunneling operation.
Alistair was one of the Fordway employees that worked on Crossrail. We take a deep dive into his experience during the project and what it was like during the Covid-19 pandemic, as well as the valuable role he plays today as part of our engineering team.
To start off with, Alistair, when did you join Fordway? 
''I joined Fordway on the 2nd Jan 2001 when the company had a lot of mainly small private sector clients within the M25 and were focused on recruiting people who would be willing to travel to central London and visit their growing client base to help clients with technical solutions.
I was working at a third-party maintenance company prior to Fordway, where I was already traveling daily, and as a people-person, I love being customer-facing, so taking this job offered a great opportunity for me to progress my experience and skill-set as an engineer. When the chance to get involved in Crossrail came along a few years later down the line, I jumped at it! It was something completely different to what I'd done before and created an unforgettable experience for me.'' 
Tell us more about the Crossrail project… 
''What I thought would just be a couple of years, ended up being 10, but I was sad to see it end! We had such a lovely team, where everyone respected and trusted each other, and to see the final result of the Elizabeth Line and know we had helped to achieve that was amazing. 
To start from the beginning, the Crossrail project was dreamt up way back in the 70s, with the aim of running a higher speed train service underground from West London through to the other side of East.
The dream became reality, and it eventually took off in 2010, where Fordway worked within a joint venture of Bam Nuttall, Ferrovial and Kier (BFK). If you're not sure what a Joint Venture is, it's because the government likes to divide up major contracts, as it ensures there is always a back-up in case anything goes wrong along the way! 
My team worked on two separate contracts. The first one was to build a tunnel, in May 2011. We were based in West of Paddington/Notting Hill area and followed the digging right through to Farringdon near St Paul's Cathedral. We had offices in Tottenham Court Road, Bond Street, Holborn and Farringdon, and had to keep up with office moves along the way.
Fun fact for you – Farringdon forms one of the ten newly built stations and is expected to be the UK's busiest. It connects the London Underground with ThamesLink and provides links with outer London, the city and 3/5 of London's airports. 
We were setting offices up/closing them down, supporting any IT issues, making sure the people doing the tunneling were able to stay connected.
This was 2 years in total. Got to meet some famous faces during the process, including Ant and Dec and even Royalty who would often come down to see what progress was being made of Crossrail. It became a very high-profile project! We had 8000/9000 staff working altogether across BFK. 
Once tunneling had finished, we moved onto a different BFK contract to build the central hub station which was Farringdon, joining East to the West, set to make a lot of commuters happy. We ended up building 2 stations, one Farringdon and the other ThamesLink. The platforms were about 400 yards length, so you would almost need to get a train from one end to the other!''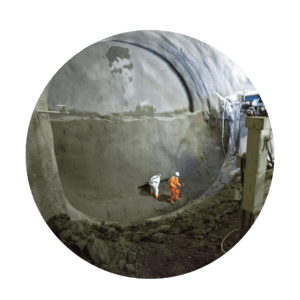 What were some of the challenges you faced during Crossrail?
''The build of Crossrail was during the covid pandemic for 2 years, which was surreal and something we never expected. Farringdon opened first, but we couldn't finish the Elizabeth Line until the other stations were ready, and things definitely slowed down during Covid. We had about 18 months of testing the line, as well as trying to continue our IT support for Bam Nuttall, Ferrovial and Kier, as well as other Crossrail staff.'' 
''It was eery – something out of a science-fiction movie, seeing no-one in the streets in a bustling area.'' 
Another challenge the team faced was that technology was in its early stages and not nearly as advanced as it is now. Mobile internet wasn't as strong as it is now, and when building offices and IT systems it became very complex. 
Alistair explains ''We were far behind the days of 5g in 2010! They would tell us you need to dig an office 100ft underground, and we were then expected to get the solutions to make sure these people could continue work.
They would also spontaneously decide to move to other locations, such as Hyde Park Corner, and ask us to network up the cabins. We just had to work with what was available and get it done. It was a challenge, but I'd like to think we came through every single challenge faced. Never a dull moment. Because we were able to achieve these, they knew they could push the boundaries on what they needed. They trusted us with everything we did, it was a really good relationship.'' 
… and what was your personal highlight? 
''It was a fantastic project to be involved in, seeing how such a thing could be developed while London carried on as per normal, pretty much. All these people working underground, it was amazing! And I had a great team. 
If you asked some of the people involved, what their memories are, I'd like to think they'd smile and say happy days. We were a great team with a great relationship with the customer. A lot of hard work and real effort paid off during the contract – they trusted us explicitly. I can't think of a bad day I had working in BFK. 
It also wasn't as testosterone filled as I had expected. At the time, there was a huge movement to get more women involved in engineering. It was a great environment to be in, and I loved the diverse range of people coming together to work on such a high-scale project and make a real difference to the city of London and its transport system.'' 
Amazing stuff, thank you for sharing, Alistair. It's so interesting to hear about Crossrail in more detail. What does your day to day involve now at Fordway? 
We came out of the BFK/Crossrail project in 2022. I've moved back into a more central role within Fordway as we assist our portfolio of clients needing IT support and cloud services. I'm often out and about visiting clients on-site, even as far as Scotland! If I'm not away, I'm helping the team on the technical side, building laptops and any IT kit our clients need.'' 
Find out more about our work in the Crossrail Project here.