Case Study: Gloucester City Homes
Migrating core

 

services to the cloud three months ahead of schedule.
What we did
Fordway completed the implementation of a managed cloud service for Gloucester City Homes' legacy IT applications, resulting in greater flexibility and scalability combined with reduced costs.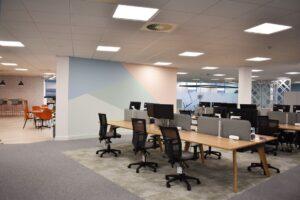 GCH had become dissatisfied with its previous IT supplier's services because they were constraining development and growth, impacting everything from efficiency and decision-making to customer service, and were considered poor value for money.
As Paul Haines, Head of IT, Gloucester City Homes, explains, "We weren't happy with the level of service we'd been receiving, and reliability and flexibility were poor, so we wanted to take back control. At first, we moved our services into a public cloud where possible, using Microsoft Office 365 and Azure, but our old legacy applications didn't play well with others in the cloud."
.After issuing a tender via the Crown Commercial Services technology framework, the housing provider chose Fordway's managed cloud solution. Fordway transferred Gloucester City Homes' legacy applications, such as its bespoke HMS, to our tier-4 UK datacentres, three months ahead of schedule. The legacy applications are now fully managed and secured as private cloud services, with daily back-ups and disaster recovery ready to go.
For end-user computing, Fordway has implemented desktop as a service (DaaS), streaming applications to users on native desktops for remote-working capability, enabling end-users to log in whenever and from wherever they want, with consistent security controls across all devices. Patching and updates are handled centrally, and Fordway has incorporated multi-factor authentication for additional security. One of Gloucester City Homes' concerns with its previous IT supplier had been reporting; Fordway defined some key reporting parameters and now provides focused service reports every month.
Post Azure Migration
In 2022 Fordway undertook projects with our customers to migrate them from Private Cloud solution to full public cloud utilising Microsoft Azure.
For GCH this meant working in partnership with them and their Housing Application provider in order to design a new solution within Azure. The DaaS service was upgraded to Azure Virtual Desktops and the Housing Application was migrated to Azure with the support of the application provider.
As part of the project, the service from Fordway has been expanded to support and monitor the full Azure tenancy on behalf of GCH.
"We weren't happy with the level of service we'd been receiving, and reliability and flexibility were poor, so we wanted to take back control. At first, we moved our services into a public cloud where possible, using Microsoft Office 365 and Azure, but our old legacy applications didn't play well with others in the cloud, so we chose Fordway's managed cloud solutions."
Paul Haines – Head of IT, Gloucester City Homes