Housing Associations are under huge pressures to deliver more for less, including the requirement to meet an annual 1% rent reduction, build more housing stock and conform with government regulations. This will not just affect housing associations themselves, but also tenants.
Like most organisations within the public sector, housing associations (HAs) are moving towards a "cloud first" strategy to better engage their tenants via digital services, whilst keeping costs down. Azure capabilities can make it easier for housing associations to manage properties and tenants and create a more collaborative workforce.
Within the housing sector it is important for leadership teams to embrace modern technologies, but without a big budget to buy new desktops and new on-premise servers, it can feel impossible to keep up with digital transformation. Cloud computing allows organisations to rapidly scale-up and adopt a more secure and highly resilient infrastructure, with fewer single points of failure then on-premise.
Employees' ability to connect securely and access data and services is vital to a seamless operation and employee productivity. In a nutshell, housing associations are moving their business data and applications to the cloud so they can be reassured that their IT systems are performing at their fullest potential – and safe in times of crisis. Cloud also gives them the flexibility to adapt quickly – which is vital in this sector, where government changes to how housing benefit is paid, for example, require a rapid response from the IT department.
The nature of hybrid working patterns is also an important factor to consider. Cloud technology, especially in recent years, has become increasingly important to allow employees to operate remotely and embrace modern working practices. Regardless of the sector, creating a workforce invested in the cloud is vital for a more digitalised future, enabling organisations to utilise virtual collaboration tools and mobile apps that grow networks and boost teamwork.
Housing associations that are still using on-premise servers with clunky and unreliable VPN technology risk running low performance virtual desktops in addition to their laptop's high performance desktop using technology like Citrix, RDS, Horizon. Cloud computing can streamline these issues and transform housing organisations. Through scalable SaaS, PaaS and IaaS technology hosting data or VMS and using technologies like Azure Virtual Desktops or Microsoft's application proxy, housing organisations can create a more modern digital desktop for employees.
Here we've highlighted six key steps to follow when migrating to the cloud:
Assess
Knowing where to start is the clear first step, and it can be a challenge. This is where a Managed Service Provider can help. The Fordway team can talk you through the options within your Azure subscription to secure the right solution for your cloud adoption strategy.
Migrate
It's important to have a strategy in place to ensure a smooth migration to Microsoft Azure. A surveyor 360 module can help. The tool is designed to support your organisations understanding of the benefits of a scalable cloud-based architecture. The module can help organisations perform an assessment of the existing environment and enable a seamless transition into build, pilot and production ready to deploy Windows Virtual Desktop for specific use cases.
3. Manage
Now you've migrated to Azure, your organisation is ready to utilise its benefits. As a Managed Service Provider, we understand that it can be daunting to navigate cloud infrastructures and access the resources, handle the configuration, workload management and security, especially when you have a business to run. Fordway can assist with the Azure Portal and help your organisation make the most of the Azure subscription and uncover its many benefits.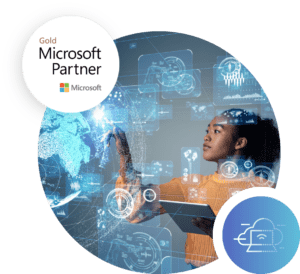 4. Protect
Cybersecurity threats can be detrimental to any organsiation. Security teams are often inundated with alerts which can be heavily time-consuming. Fordway has the in-depth security expertise to review, configure and operate all the tools necessary. Enabling an organisation to get on with business as usual, protected from potential threats.
5. Optimise
Microsoft highlights 7 ways to optimise costs – shutting down unused resources, right-size underused resources, reserve instances for consistent workloads, take advantage of Azure Hybrid Benefit, configure autoscaling, create budgets and allocate costs to teams and projects and ensure you have chosen the right Azure compute service.
6. Innovate
Now you have all your data connected and in one place, what's next? You now have the opportunity to explore advanced workloads such as Artificial Intelligence (AI), Machine Learning (ML) and Internet of Things (IoT). IoT, as an example, can be hugely beneficial to social housing associations. The approach can help to build a picture of patterns of repairs across properties, using digital sensors which cleverly alert maintenance teams to issues or potential problems before the tenant is aware. This helps associations provide a more proactive service to tenants and sustain higher quality living standards.
It is also worth mentioning cloud provisioned management systems, which gives us the opportunity to digitise documents and digitalise process automation through Microsoft's Power Platform. The platform offers advanced capabilities, available through Azure and M365, as are technologies like artificial intelligence and machine learning.
These capabilities allow the next wave of digital transformation in housing associations, so it is vital to think about how to access the latest technology as it becomes more popular in the housing sector. Increasingly Housing Associations are making the most of the benefits cloud computing has to offer and maturing their digital online services and as a result, the velocity of software release cycles is accelerating.
For housing associations keen to get on the cloud ladder, but aren't sure where to start, a Cloud Options Analysis can help.
The analysis will help to unlock a business strategy aligned to your business needs, identify the scope of changes needed, and create a roadmap for your cloud migration.