Cloud Security Management 
With threats to organisational security on the rise and the attack
methods getting more complex, it is essential for all businesses to have a comprehensive security  toolkit available.
Fordway's Cloud Security Management can monitor and operate complete cloud security solutions across the breadth of tools
available, yet tailor it exactly to meet any requirements.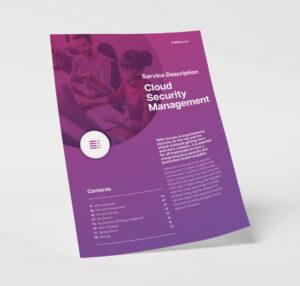 Fordway has the in-depth security expertise to review, configure and operate all the tools necessary. Enabling an organisation to get on with BAU, protected from potential threats.
With both the Internet crimes reported growing (over 2.2 million complaints in the past five years, one third in 2020) and the types of attack being more and more prolific (500,000 Zoom passwords were sold in April 2020, 68% of SMB's stating their employees have lost/
stolen passwords).
A cohesive strategy linking together all aspects of security aligned with expertise to operate them without being
deluged in security issues is necessary.
The Benefits
Fordway have a range of services based around providing complete security across the entire breadth of solutions any organisation may have. End to end organisation assessment
.Use the Fordway expertise and knowledge of providing
comprehensive, tailored security solutions, for other
clients, to enhance security and protection. Experienced Personnel
From business, project management and technical viewpoint, Fordway have multi-years of experience of real-world deployments and operational requirements. Proactive Implementation
Fordway's knowledge can turn reactive, knee jerk reactions to security breaches, into a proactive, automated, policy and
risk-based response that ensures all threats are dealt
with in a professional manner. Comprehensive Security Assessment
From business, project management and technical viewpoint, Fordway have 30 years of experience of helping organisations deliver successful real-world deployments and meet operational requirements.
Independent Assessment
Fordway will provide independent
feedback on the benefits and limitations of Security
platforms and align with other products if necessary. Collaboration
Fordway's personnel will work
alongside your IT staff and any third parties collaboratively, as each has skills necessary. Detailed Knowledge of Security Management Tools
Fordway have extensive knowledge of the Defender and Sentinel tools, also how to integrate them with other complimentary Microsoft products, including Lighthouse, Monitor and Arc. These can be configured to deliver the necessary statistics and dashboard for each organisation. Understand Legacy
Fordway know companies have legacy systems with potential integrations that cannot just be ignored. Clear Reccomendations
Fordway will produce a set
of costed recommendations on how to get the best security solution out of the licences held and how to migrate any systems over.
Contact us to find out more about our Cloud Security Management service