Microsoft Azure
Assessment
Make the most of your investment in Microsoft Azure
Fordway's Microsoft Azure Assessment will provide you with an end-to-end review of your organisation's Azure subscriptions and associated services. 
Book your free Microsoft Azure Assessment today: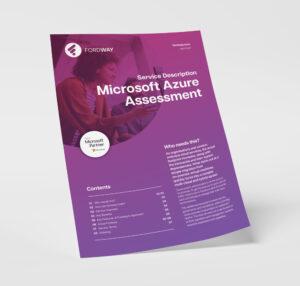 As organisations and vendors embrace cloud services, the actual footprint increases, along with the intricacies and inter-system dependencies. What starts out as a simple migration from on-premise virtual machines, quickly turns into a complex multi-cloud and hybrid sprawl. Cloud system administration is not the same as on-premise.
To get the best out of cloud, staff will either need to be re-trained or allow third parties such as Fordway to manage their multi-cloud environments. The additional necessity to ensure security, governance and compliance, whilst controlling costs, provide a real problem for traditional IT teams. The tools do exist, but to get the best out of their operation and management, needs the requisite experience and capabilities.
Organisations end up basing their cloud usage on 'case by case, per application' basis as this is dictated by each vendor. No two vendors use cloud services in exactly the same way, leading to security and integration concerns. The actual enterprise adoption of multi-cloud services in 2021, was 93%, with the average use by a mid-size organisation of 2.6 public and 2.7 private clouds.
Fordway's Azure Assessment service will perform an end-to-end review of an organisation's entire IT environment, including multi-cloud, hybrid and on-premise.
We'll check on all the major components, including Compute, Storage, Databases, Security and Authentication, Networking, Monitoring, Web Services and Mobile Services.
The Benefits
This service will review the current Azure environment, plus other cloud & hybrid elements. It will provide recommendations on how to unlock the full potential of what capabilities exist. Fordway will use their 30 years of experience in delivering tailored, optimised
solutions to provide business centric IT recommendations. Increased business understanding
The business will understand where improvements/
changes are required to assist with operation and security. Take advantadge of the latest technologies
Use Fordway's experience of the new tools
and applications available to improve business performance. Independent
Fordway will provide independent feedback on the benefits and limitations of the Azure solutions as well as enhance them. Experienced personnel
From business, project management and technical viewpoint,
Fordway have multi-years of experience of real-world deployments and operational requirements.
Comprehensive Azure Assessment
Fordway will perform a detailed analysis against the current configuration, how to incorporate the new technologies and where real business benefits can be gained. Provide full set of options and recommendations. Collaboration
Fordway's personnel will work alongside your IT staff and any third parties collaboratively, as each has skills necessary. Detailed Knowledge of Management Tools
Fordway have extensive knowledge of the
Microsoft management tools, including Lighthouse, Monitor, Sentinel and Arc. These can be configured to deliver the necessary statistics and dashboard for each organisation and used as part of the assessment. Understand Legacy
Fordway know companies have legacy systems with potential
integrations that cannot just be ignored Clear Reccomendations
Fordway will produce a set of costed recommendations and
options, on how to get the best out of the Azure cloud and any additions needed
Contact us for your free Microsoft
Azure Assessment