Microsoft 365 Enterprise Desktop & Security Management
The Microsoft 365 suite provides comprehensive
tools & capabilities, whether you have
subscribed for the
E3 or  E5 license. 
Fordway offer a comprehensive range of services to assist organisations make best use of and manage their Microsoft 365 (M365) Enterprise subscription. As an organisation, it is essential to make effective use of the licenses you subscribe for, and to ensure that you have not purchased licenses from various vendors that provide the same capability.
Contact us today for a quote: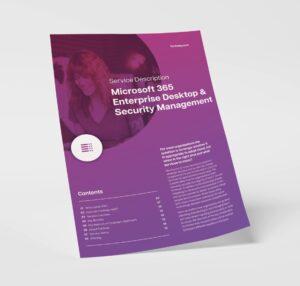 M365 is Microsoft's combined suite of products, comprising Windows 11 Enterprise (allowing downgrade rights to Windows 10), Office 365, and Enterprise Mobility and Security. Enterprise licences are E3, E5, F3 (for frontline workers) plus A3/A5 for Education and N3 for the NHS. Any M365 licence offers a vast amount of capability, but when you subscribe you simply receive the capability.
To provide an effective service for your organisation it needs to be implemented, configured and managed. The key to gaining benefit from your M365 licence is to understand and use the components to:
• Simplify your environment
• Retire other products to create savings
• Implement the chosen elements correctly to maximise utility
• Manage the capabilities to improve productivity whilst securing and protecting your services
Fordway's Services for Microsoft 365 Enterprise deliver the 24 x 7 capability your organisation needs to realise the full value of your Microsoft 365 subscription.
The Benefits
Fordway's Microsoft 365 Enterprise Desktop Management uses our 30 years' experience of delivering tailored solutions, to operate and manage components that organisations simply don't have the time or resources to devote to themselves. Comprehensive Operational Capabilities
Fordway have been operating and managing multi-cloud solutions for many years. Get the best from M365
Enable the full cost benefits of using the entire suite of products available. Secure and Secure Plus Desktops
Ability to deliver secure desktop solutions up to OFFICIAL with additional controls in place to meet OFFICIAL – Sensitive. Certified staff
All staff are BPSS checked with key technical, operational and commercial staff SC cleared and vetted. 
Independent Assessment
Fordway will provide independent feedback on the benefits and limitations of the M365 product set against other products. Experienced Personnel
From business, project management and technical viewpoint, Fordway have multi-years of experience of real-world deployments and operational requirements. License Assessment
Fordway will perform a detailed analysis against the licences held and where real benefits can be gained Collaboration
Fordway's personnel will work alongside your IT staff and any third parties collaboratively, as each has skills necessary.
Detailed knowledge of management tools
Fordway have extensive knowledge of the Microsoft management tools, including Lighthouse, Sentinel, Monitor and Arc. These can be configured to deliver the necessary statistics and dashboard for
each organisation. Understand Legacy
Fordway know companies have legacy systems with potential integrations that can not just be ignored Clear Reccomendations
Fordway will produce a set of costed recommendations on how to get the best out of the licences held and how to migrate any systems over.
Contact us today to maximise the benefits of your Microsoft 365 suite