Worried about data breach or ransomware attack? If you don't have
the budget nor IT expertise in house to provide a high
level of security monitoring, it can be risky for your business. Fordway can help.
Fordway's Security Service has three simple steps to understand your requirements and help you articulate them at board level. It is a
comprehensive service with optional vCISO (virtual Chief Information Security Officer) to ensure the smooth running of the service and its
continued relevance as your business evolves.
Finally, we can provide a safe pair of hands, that should the worst happen, someone to walk you through the recovery process and get
you up and running ASAP.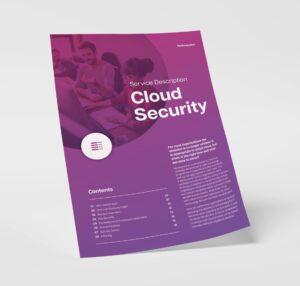 Global cyber-attacks are increasing at a rate higher than 50% year on year. One out of every 61 organisations have been targeted by ransomware each week, in 2021.
It is now crucial for organisations to continually monitor their environments for indicators of attack that may be visible long before any breach or ransom cripples the organisation. With many organisations having to report breaches publicly to the ICO it pays to resolve cyber security issues early before any damage is done.
Fordway's Cloud Security Management service gives you all the controls, visibility, and expertise needed to secure your environments and data no matter where it rests, or where it is consumed.
Increasingly organisations resort to point solutions to secure different parts of their IT. Attackers leverage the gaps in an organisation's infrastructure and processes to infiltrate and breach often deploying ransom ware or stealing sensitive information. What is a required is a holistic view of the IT landscape or attack surface and the knowledge of how best to defend each piece.
Fordway's Cloud Security Management service not only brings the technology and tools required for a complete 360 view but also the processes, knowledge, and expertise to gain actionable insight into how best to defend and respond to threats and attacks.
Based around the 20 CIS controls, Fordway's Cloud Security Management service is consumed in 3 simple steps. Leveraging Microsoft's M365 and Azure products for cloud security and bringing in best of breed products and services from Fordway partners to ensure a complete security package that can be built around your specific requirements.
 Cloud Security Management 3 Step Approach
 

 

There are three stages that Fordway believe are important in the lifecycle of a security program. First, understanding the environment and undertaking a risk analysis, secondly continual monitoring and improvement of your security posture and process, finally remediation and restoring should the worst occur. Fordway's Cloud Security Management is broken down into these three steps. 1. Cloud Security Baseline
May be purchased separately, as a standalone one-off service or as onboarding for Step 2 – Cloud Security Management service.
This step includes:
• Discovery & Inventory of hardware & software assets – this is ongoing if bought in conjunction with Step 2
• Business Environment Assessment
• Security & Risk Governance Assessment
• Overall Risk Assessment
• Risk Assessment Report 2. Cloud Security Management
Fordway will design & implement the CIS CSS controls appropriate to your organisation from the table above

Continuous monitoring Improvement of your security posture

Real-time reporting of security incidents

Azure Sentinel dashboard for historical events & real time updates

Monthly reporting of service-related statistics:




Optional virtual CISO to run day to day security tasks vCISO. Full time or part time as requiredime or part time as required
3. Cloud Security Remediation
Virtual CISO/Security Incident Manager to oversee:
Communications
Threat removal & mitigation
Recovery and return to BAU
Explore Cloud Security solutions. Contact our expert team today.