Azure IaaS Operations
& Management
Get the best out
of
Azure 
This service ensures that all operational requirements for the virtual machines, storage and networks are managed in a cohesive manner. Fordway believe in proactive maintenance, rather than waiting for a component to fail and then worrying about the consequences.
Book your Azure IaaS Operations & Management service today, and reap the benefits of Azure: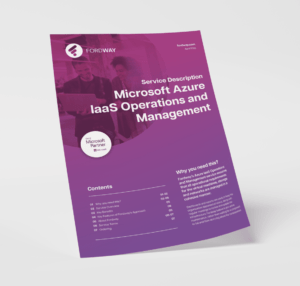 Fordway's Azure IaaS Operations and Management covers all the main components of Azure:
Virtual Machines

Storage

Networking
Fordway can support any size deployment, and have expertise in multiple server types and network devices (e.g. Firewalls, NSGs, VNETs, VPN gateways).
We also provide expertise in Azure arc, which extends the Azure management capabilities to on-premise and servers hosted in other cloud providers, offering comprehensive coverage across cloud and hybrid environments. For all components the operational management includes the following services:
• Support: Break/fix of any components and associated applications
• Backups:  Configuration of backup policies and jobs, Creation and monitoring of metrics with success/failure alerts, 24 x 7 support for the backup service
• Monitoring: Management and alerting on 5 pre-defined conditions, relating to agreed thresholds (generally around): Availability,  Device performance, Errors/Alerts
• Patching: Patched to an agreed patching schedule – Includes Microsoft and 3rd Party applications
• Security: Monitor & combat anti-malware and other virtual machine threats – Review Secure Score
Note: The actual alerts to be monitored are dependent on the devices and will be agreed prior to service implementation and set up. Get the best out of Azure
Ensure critical infrastructure remains operational with pro-active management. Independent
We work on the customer's behalf, providing independent operation and management, insights and recommendations. Experienced personnel
From business, project management and technical viewpoint, Fordway have 30 years of experience of assisting organisations real-world deployments and operational requirements Comprehensive Assessment
As part of service initiation Fordway will perform a detailed analysis against the current configuration and where real benefits can be gained Understand Legacy
Fordway know companies have legacy systems with potential integrations that cannot just be ignored​agement. Clear Reccomendations
Fordway will produce a set of costed recommendations on how to get the best out of each component and its operational management
Collaboration
Fordway's personnel will work alongside your IT staff and any third parties collaboratively, as each has skills necessary to achieve desired outcomes. Detailed knowledge of management tools
Fordway have extensive knowledge of the Microsoft management tools, including Lighthouse, Monitor, Sentinel and Arc. These can be configured to deliver the necessary statistics and dashboard for each organisation.
Contact us for a quote today